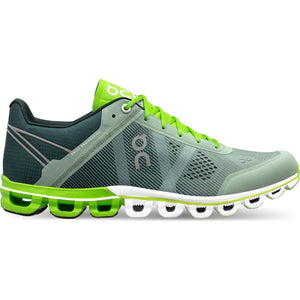 Got your feet on the ground but your head in the clouds? Bring your feet up there with you on your next run.
The 18 "clouds" on the sole of the Cloudflow — tapering from puffy cumulus in the heel to wispy cirrus in the toe — work independently to cushion your landing while On Running'sSpeedboard technology flexes to promote a smooth transition from heel to toe.
Made light enough for your fastest days, On's unique Zero-Gravity midsole doesn't just make it feel like you're running on a cloud, but they weigh about as much as one, too.
---
Tech specs
Price: $140
Weight: 8.1 oz (men), 6.7 oz (women)
Drop: 6 mm
Use: Everyday trainer
Distance: Short to long runs
Surface: Road, track