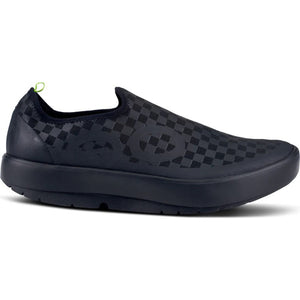 Recovery is a lost art, so help your feet recover from everything you put them through with The OOFOS OOmg eeZee Print shoes.

With a unique, four way stretch woven canvas-like material, the OOmg eeZee contours to the entire foot while remaining breathable and flexible. This high-quality aesthetic makes the eeZee canvas upper durable and versatile, able to handle the busy days and endless nights.
Featuring OOFOS' revolutionary OOFoam technology, the OOmg eeZee relieves joint stress by absorbing 37 percent more impact than traditional foam footwear materials.
The specially engineered footbed is designed to cradle all the curves of your foot and deliver a cushioned ride no matter where you go.
Between its thoughtfully developed cushioning and printed design, it's hard not to say "OOmg" to the OOFOS OOmg eeZee Print.