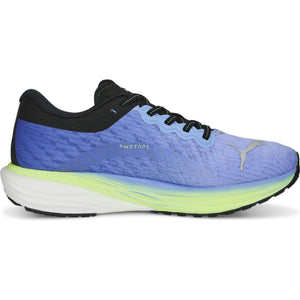 The carbon-plated Puma Deviate Nitro 2 makes your fastest, faster.
Now featuring a full-length layer of Puma's premium Nitro Elite foam, the ride of this daily-trainer-meets-race-shoe is even more snappy and responsive than its award-winning predecessor. In addition to the peak propulsion of its energetic foam, the Deviate Nitro 2's reworked PWRPLATE acts as a lever for maximum energy transfer at toe-off so you can run faster for longer.
Coming in a featherlight package, the barely-there fit of this fast and fun shoe is thanks to the breathable mesh upper that has extra padding and grip around the ankle to prevent heel slippage. No slipping means you'll be more comfortable as the miles add up.
The upper is reinforced for extra support and durability while the shoe's grippy PUMAGRIP ATR outsole holds up to harsh elements and terrain, so you feel secure and confident running at high speeds.
Run effortlessly in the snappy and responsive men's Puma Deviate Nitro 2.