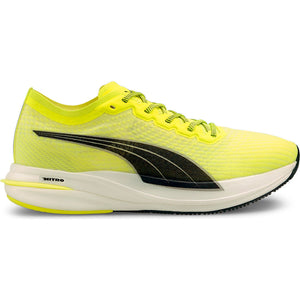 Packed with a snappy carbon plate for your fastest runs, the Puma Deviate Nitro blurs the line between a daily trainer and a racing shoe.
Right out of the gate, you'll enjoy the extremely fun and fast ride that Puma's carbon-fiber INNOPLATE gives this running shoe. The propulsive plate, paired with lightweight and responsive NITRO foam in the midsole, makes you feel like you're running on air.
Designed to give you confidence when you reach top speeds, a durable PUMAGRIP rubber outsole gives the Deviate NITRO excellent grip on all types of surfaces and feels secure even as you're rounding corners.
A feather-light and breathable mesh upper has a glove-like fit and buttery-soft suede liner for a close-to-foot feel and irritation-free run. Plus, the full-lace enclosure lets you dial in the fit no matter how you lace up your running shoes on race day.
When your training runs start to outlast the daylight, 360-degree reflectivity keeps you visible in low-light conditions.
Built to beat your fastest time, and then beat it again, the Puma Deviate Nitro gives you max-cushioning and a speedy carbon-fiber plate for an effortless run.