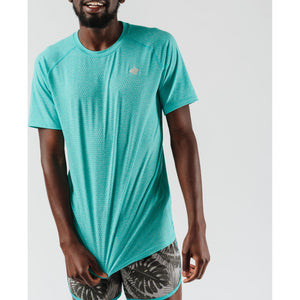 rabbit took the most comfortable running tee in existence and made it lighters and more breathable by adding perfs. So easy to love it may be hard to take off, the EZ Tee offers everything you could want in a running shirt. Made with rabbit's impossibly soft quick n' fit fabric, the EZ Tee is so comfortable you may forget you're wearing it. Don't worry, though, the steady stream of compliments will help remind you that you're not actually naked. Sweat-wicking, fast-drying and never clingy, the EZ Tee makes picking out a shirt the easiest part of your run!
- quick n' fit perf is made of a magical combination of 94% poly/ 6% spandex
- Super lightweight & quick drying
- Tailored fit (also known as not boxy or fussy)
- Machine wash cold, tumble dry low, don't bleach, mmkay?
- Crafted in California