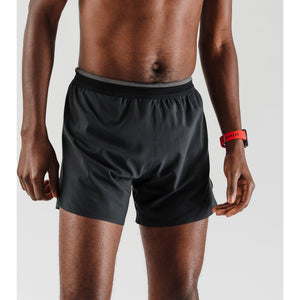 A 5-inch short with a racing soul, the rabbit Quadeez 5" gives you a little more coverage on race day without sacrificing your pace.
Designers created the minimalist split short for maximum speed by technical construction and lightweight fabric.
The laser cut and bonded seam construction boosts comfort and reduces weight, and the 100 percent polyester fabric is smooth against your skin and dries in a flash. A brief-style liner cut from rabbitKNIT fabric ensures a supportive, chafe-free fit.
A flat elastic waistband with an internal drawstring secures the shorts around your waist, while an internal pocket can hold your key and nutrition.
When you're pushing for a PR, the rabbit Quadeez 5" has you covered every step of the way.