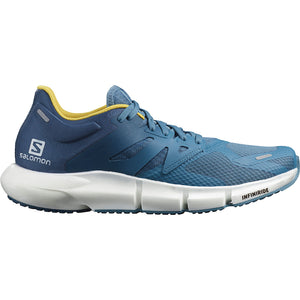 Best For:
Surface: Road, Gyms, Flats
Category: Neutral Cushioned – Intended for runners who have a higher, more stable arch that does not pronate excessively(roll inwards) or may even supinate(roll outwards). Neutral Cushioned shoes offer very little or no structure or pronation support and are generally more flexible than stability shoes. Runners who require a neutral shoe tend to notice more excessive wear on the lateral(outside) side of the soles of their running shoes. Neutral shoes can vary from lightweight and minimal cushioning to maximum levels of cushioning depending on the needs and preferences of the runner. Runners with high/stable arches tend to notice pain on the outside(lateral side) of their shins and knees and may also battle plantar fasciitis if not wearing a neutral cushioned shoe.
Benefits Include:
Unlock to adapt. Anatomic Decoupling lets the PREDICT flex with your foot, so the independent platforms can adapt to your stride and the terrain.
Plush cushioning with every strike – our TPU-based Infiniride foam allows you to clock miles in first-class comfort.
A foot-hugging fit from an ultra-comfy sock-like forefoot construction with no inner seams.
Super lightweight rubber formula for a cushy feel and ground sensation.
Contagrip FA combines flat, wide lugs for friction grip on flat, hard surfaces, with a compound that balances durability and adhesion. Ideal for road running.
Molded to match the contours of your foot, this OrthoLite insole provides superior cushioning, as well as breathability and durability, to upgrade the comfort and performance of our footwear.
Specifications: