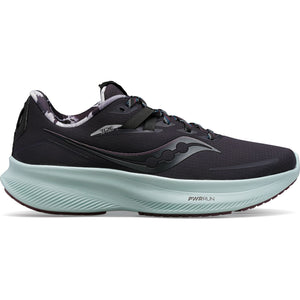 Defy the elements in the Saucony Ride 15 RUNSHIELD.
The Saucony Ride 15 has more foam and less weight than before—everything you need to take your running to new heights. Inspired by Robert Frost's "Stopping by the Woods on a Snowy Evening," the limited edition RUNSHIELD edition is water resistant to keep your feet dry and warm all winter long.
Saucony re-engineered their signature PWRRUN formula to give you a lighter and softer foam underfoot for your most comfortable ride yet. The additional cushioning allows you to sit deeper into the footbed, hugging your foot and offering a plush and supportive feel every step of the way. Plus, Saucony added an extra layer of comfort with a PWRRUN+ cushioned sockliner.
A new midsole geometry, as well as heel and forefoot beveling, gives you super smooth transitions from heel to toe. The forefoot has more flexibility, too, which allows your foot to move more fluidly to propel you forward.
The Ride 15 features Saucony's FORMFIT which has three layers of cushioning to adapt to your unique foot shape, weight and stride, giving you a personalized fit. The Saucony Ride 15 RUNSHIELD will have you running through the rain and snow with ease, making it one of the best shoes for running in the snow.