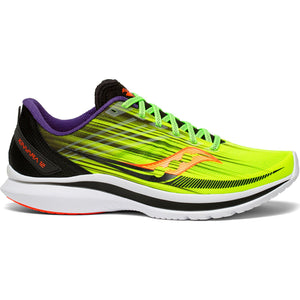 It's light-speed-ahead with the men's Saucony ViziPro Kinvara 12. Your trusted go-fast trainer now gives you max visibility on your run.
The VIZIPRO Collection adds ultra-bright colors with reflective details to your favorite Saucony running shoes for better visibility on the road.
The Kinvara 12 feels as fast as ever. Its energetic and springy PWWRUN midsole is flexible yet cushioned enough to get you to the start line stronger and the finish line sooner.
Saucony covered the Kinvara 12 in a lightweight mesh upper that ensures you're not hauling any more ounces than necessary. The upper breathes really well and works with Saucony's FORMFIT system to give you a comfortable fit.
With a low-profile and ultra-bright silhouette for safety and visibility on the roads, Saucony primed the ultra-light ViziPro Kinvara 12 for personal bests.