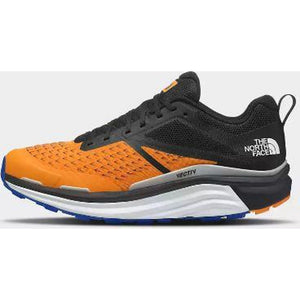 Get the most out of your trail run with The North Face Vectiv Enduris 2.
This is one of the most cushioned North Face trail shoes featuring an amazing midsole that will keep you running all day long. The Enduris 2 contains Vectiv™ technology, which is a dual-density midsole that is lightweight, responsive and cushioned. The TPU plate and rocker midsole work together to give you long-lasting forward propulsion and maximum energy return.
The breathable air-mesh upper gives you an adaptive and comfortable fit while the no-sew TPU overlays add lightweight protection from trail debris. Then an internal heel counter provides a precise fit and rearfoot support while running on uneven terrain. The Surface Control™ rubber outsole gives you plenty of traction for the trails, yet feels great if you need to run a mile or two on the road.
Keep going mile after mile on the trails with The North Face Vectiv Enduris 2.