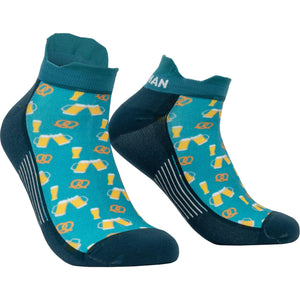 There is no reason that socks should be boring, so show off your personality with the fun patterns on Nathan Fuel Speed Tab Socks.
Nathan knit the Fuel Speed socks from anti-blister yarn and padded the heel and toe to keep your feet feeling wonderful all run long. Each sock is anatomically designed for your left and right foot to give you a more precise fit, while arch compression adds a little more support.
Designers used Open Knit ventilation for breathability and to keep your feet dry, and added speed tabs to protect your ankles from rubbing and keep your socks in place.
Put a smile on your face everytime you put on your socks with the Nathan Fuel Speed Tab Socks.