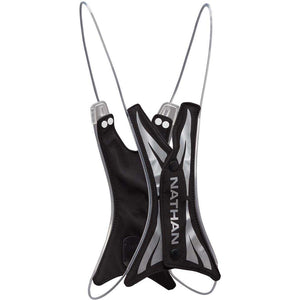 Stay visible while you run with the Nathan HyperNight Laser Light Vest.
This lightweight vest uses fiber optic light tubes that have eight different settings to provide you with 360 degrees of visibility. The integrated LED bulbs emit 10 lumens of light in seven different colors to let drivers and other road users know where you are running. Plus, there are other reflective details for additional safety.
Easy to use, there is a single push on/off button and front snap closure. Throw this on over any running outfit, turn it on and forget about it—it's lightweight and made for running, so you have complete freedom of movement. A rechargeable power supply eliminates excess bulk, weight and the need to replace batteries.
Fully adjustable, the lightweight, colorful Nathan HyperNight Laser Light Vest will help you to stay safe whether you are walking the dog before work or doing the night leg of a Ragnar Relay.