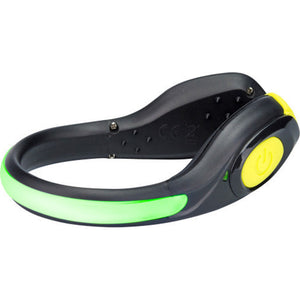 Be seen and stay safe while running or biking at night with this super-bright, lightweight LED that securely clips onto your shoe. RGB Light means you can change the LED color to red, green, or blue. Its powerful battery is USB rechargeable and kicks out strong light for up to 12 hours.
Features 3 modes.
Perfectly tensioned to stay on shoes during high-impact motion.
Contains a fixed Li-ion Polymer rechargeable battery with an 8+ hour continuous burn, and 16+ hours of strobe.
USB power cord include.
Fits shoes up to size 15.
Provides LED visibility up to 2400 ft.