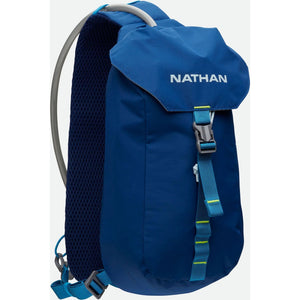 Carry everything you need and stay hydrated with the Nathan Limitless 6L Sling.

The Limitless Sling fits on either right or left shoulder and includes a removable strap that fits around your torso to minimize bouncing during the run. The main strap consists of 5 mm of foam to provide you with comfort throughout the run.
Keep everything you need in the Limitless Sling—the main storage compartment features a drawstring opening to adjust and maximize storage with a helmet compression flat top that secures and compresses the load. Plus, there are a variety of other pockets to make it easy to grab what you need whether you are on the run or traveling.
This bag includes a 25 oz soft flask with hose for easy access to hydration while you run.
The Nathan Limitless 6L Sling provides you with a new bounce-free storage and hydration option that is perfect for running, walking, or a day at the amusement park.