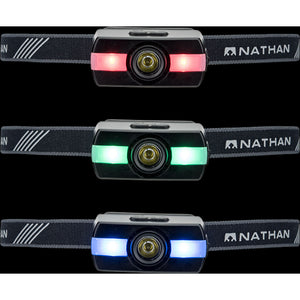 Don't let the dark stop you from running, use the Nathan Neutron Fire RX Runners Headlamp to light the way.

This run-specific headlamp has everything you need to run in the dark. It is lightweight, so it doesn't hurt or weigh you down as you put in the miles. It kicks out 200 lumens of bright light on the roads or trails with the LED spotlight. There are five different lighting modes: low, medium, high, boost and strobe. On either side of the spotlight are strobe strips that feature red, blue or green light.
This headlamp is USB-rechargeable, so there is no need to fret about having batteries in your pack, and it provides 25+ hours of burn time, which gives you enough juice for the longest days. Go ahead and run in the rain, the Neutron Fire RX headlamp is water resistant. Plus, the entire strap is made with reflective material to give you 360 degrees of visibility.
Known as one of the best running headlamps, the Nathan Neutron Fire RX Runners Headlamp provides a lightweight option to see during those early morning or evening runs.