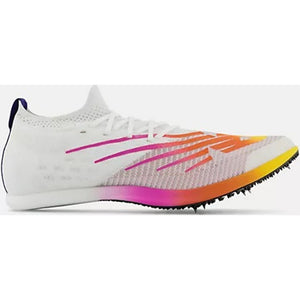 Energize every run with the fast and lightweight New Balance FuelCell MD-X.
Designed to break your personal bests in middle-distance track events, the MD-X has an energetic FuelCell midsole and a snappy, full-length carbon fiber plate to keep your legs driving forward.
No matter how far you go, the feather-light engineered knit upper saves extra weight when your legs start to feel tired and heavy. A lace-up closure lets your dial in your perfect race-day fit, while six built-in spike pins give you the traction you need to push ahead.
Designed to look and feel fast while matching Team New Balance's colors, you'll be flying around the track in the New Balance FuelCell MD-X.