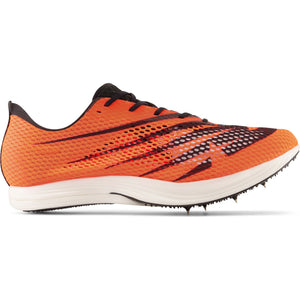 Loaded with a full-length carbon plate and four built-in pins, the New Balance FuelCell SuperComp LD-X will be your go-to track spike for long-distance races or the steeplechase.
The SuperComp LD-X meets the needs of elite athletes looking for a lightweight, high-rebound track spike with exceptional energy return and performance. The FuelCell foam is propulsive to help drive you forward when you start to get tired and the four built-in pins give you the traction to make your final kick.
New Balance's Energy Arc technology pairs carbon fiber plate geometry with strategically shaped and placed midsole voids to give your run a ridiculously high amount of total energy returned. Put simply, it makes you feel like rockets are strapped to your feet.
When you're gearing up for the competition, the lace closure lets you dial in your fit, while the ultra-lightweight engineered upper gives you breathability and water drainage.
Leave the competition behind and set a new PR and ultra-fast and lightweight New Balance FuelCell SuperComp LD-X.