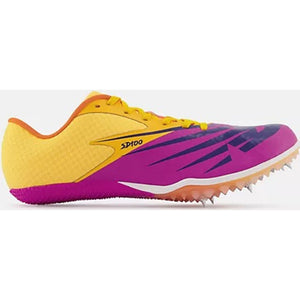 Sprint past the competition at top speed in the sleek and fast USD100 v4 track spike.
Designers gave the USD100 v4 an innovative spike plate inspired by New Balance's elite track spikes to provide emerging athletes with an aggressive yet forgiving ride. The forefoot plate has six removable spikes for superior traction and a molded heel with a textured outsole to give you extra grip off of the blocks.
The traditional construction lets you lace up for a customized and secure fit, while a durable synthetic mesh upper keeps your feet cool as the race heats up.
Push past your personal best in the lightweight New Balance USD100 v4 sprint spikes.