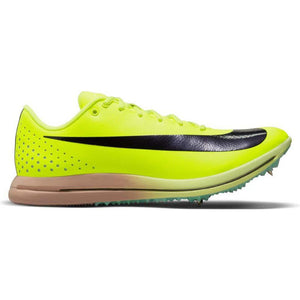 Get the most out of every hop, skip and jump with the Nike Triple Jump Elite 2.
You'll love the lightweight feel and secure comfort of these spikes. A synthetic fabric upper keeps your foot contained while you jump and provides optimal breathability for hot days.
The responsive midsole gives you more impact absorption upon landing thanks to the thicker base. Dense heel traction delivers grip where you need it to get the most out of your jumps. Plus, there is a full-length plate that helps keep you grounded and stable when you run and jump.
A generative outsole is designed by elite athletes to help you jump further. It features six spikes for lightweight and durable traction.
Note: this is a unisex-sized shoe. Men's sizes are shown, check out our shoe conversion guide to get the correct size.