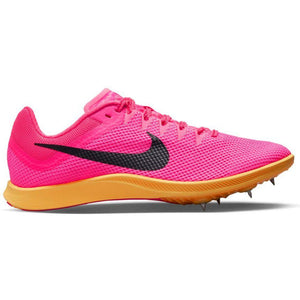 Dominate your middle and long-distance races in the Nike Zoom Rival Distance track spike.
For the all-around athlete, this versatile spike has the cushion to keep you comfortable over longer distances and gives you a smooth, propulsive transition when it's time to make your final push.
The single-layer mesh upper is sleek and lightweight with excellent breathability to keep your feet cool. Plus, an arch band hugs the middle of your foot for support, creating a secure fit when you're running around the loop.
Four replaceable spikes made of lightweight ceramic aluminum material give you optimal traction and durability whether you're running on an indoor or outdoor track.
Set a new personal best in a variety of events with the Nike Zoom Rival Distance track spike.