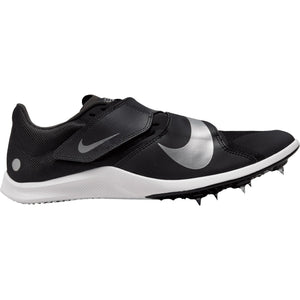 Reach new heights in the Nike Zoom Rival Jump track and field spike.
Specifically designed for jumping events, this spike has six removable forefoot spikes along with secondary heel traction to give you the confidence to perform at your best in wet or dry conditions and on a variety of surfaces.
The midfoot and heel of this jumping spike are cushioned yet lightweight, and they have a wider base for smooth transitions and extra forgiveness when you're moving at full throttle. As you transfer into your takeoff and jump, Nike's bouncy foam gives you high energy return for optimal performance.
Dial in your fit using the diagonal midfoot strap that you can quickly readjust in between jumps and events. Plus, a lightweight, snappy plate adds stiffness and stability to the ride for extra responsiveness during both sprinting and takeoff.
Pop a new personal best in the Nike Zoom Rival Jump spike.