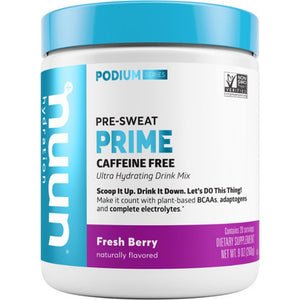 Nuun Prime is a pre-workout mix that prepares the body for peak performance by enhancing retention of H20 and amino acids for optimal hydration and decreased central nervous system fatigue. Mix one serving of Nuun Prime in 16oz of water and consume 45-60 minutes before your workout.
Ingredients
Ingredients: Cane Sugar, Dextrose, Inulin (from Chicory Root), Natural Flavors, Malic Acid, Citric Acid, Grape Juice Concentrate (for color), Stevia Leaf Extract.
Store below 25C / 77F
Manufactured in a facility that handles: Soy, Dairy, Wheat, Tree Nuts, Shellfish, Fish, Peanuts, and Eggs.
Warning: For Adult (18+ years) use only. Consult with your health care provider prior to use if you are pregnant, nursing, if taking medication, or have any health conditions or concerns.