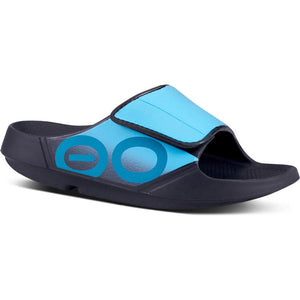 A contemporary take on an OOFOS original, the OOAhh Sports Flex sandal offers sleek design and next-level comfort.

On top of amazingly comfortable cushioning, the Sports Flex sandal provides an adjustable OOfoam strap for even better support and an optimal fit. Choose from seven vibrant colorways to make your statement in style.
No matter where you wear them, the Sports Flex absorbs 37 percent more impact thanks to signature OOfoam technology. The soft foam creates a cushy, supported walking experience everywhere you go.
The closed-cell foam is machine washable, and the uniquely designed footbed cradles your arches, enabling a more natural walking motion and taking stress off your joints.
Elevate your style and support with the versatile OOAhh Sports Flex sandal.

This sandal is unisex, but the sizes shown are men's sizes. Women's sandals run two sizes higher than the men's sizes shown. For example, if you want a women's size 8, you'd select size 6.