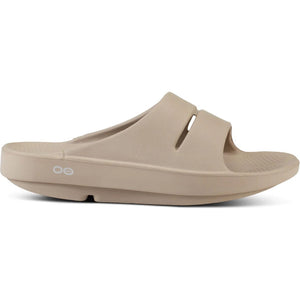 The Oofos Ooriginal Sandal is unisex, but the sizes shown are men's sizes. Women's sandals run two sizes higher than the men's sizes shown. For example, if you want a women's size 8, you'd select size 6.
If you normally wear a whole size: Order the same whole size OOfos.
If you normally wear a half size:
Women: order a half size UP for best fit.
Men: order a half size DOWN for best fit.
_____________________________________________________________________________________________________
Pounding the pavement can take a toll on your feet. After all they have been through, your feet deserve a pair of OOFOS OOahh Slides.

These slip-on, after-sport slides have OOFOS signature OOfoam technology, absorbing 37% more shock than other materials. The durable OOfoam holds its cushion and no need to worry if they get dirty, these slides are machine washable.
The OOah Slides conform to your feet with a biomechanically designed footbed that supports your arches and allows for your feet to move naturally. The proprietary footbed design reduces stress on sore feet, knees and lower back to help you feel your best.
Not only are these slides perfect to slip on after your big race, they are also great for the beach or pool since they are moisture and bacteria-resistant. Plus, if you get pushed into the pool, the slides are so light that they float. You put your feet through a lot, reward them with a pair of OOFOS OOahh Slides.