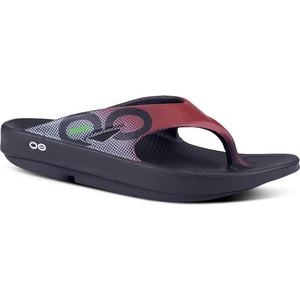 The Oofos Ooriginal Sport Sandal is unisex, but the sizes shown are men's sizes. Women's sandals run two sizes higher than the men's sizes shown. For example, if you want a women's size 8, you'd select size 6.
This sandal features revolutionary OOfoam™ technology that absorbs 37% more impact than traditional footwear foam materials to reduce the stress on your feet and joints. This technology aids in the recovery process and creates an incredibly comfortable sandal you can wear anywhere. The upper features bold, catching graphics that is unique to the OOriginal Sport style.

Reduces stress on sore feet, knees, and back
Enables more natural motion
Minimalist construction for light weight
Machine washable
OOFOS are made in whole sizes. We recommend sizing down if you're a men's half size.