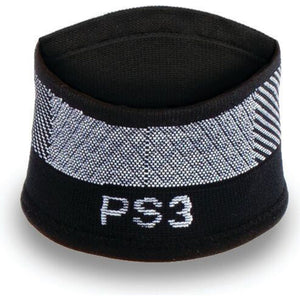 Relieve Knee Pain Caused by Jumper's Knee (Patellar Tendinitis), With One Light, Comfortable Patellar Sleeve.
PUT A BOUNCE IN YOUR STEP WITH LESS KNEE PAIN
Repetitive stress of the knees from sports or other activities can hinder your ability to perform at your personal best. Runner's knee and other knee joint pain doesn't have to put you on the bench.
WE'LL HELP YOU GET BACK IN THE GAME
OS1st® PS3 Sports Compression Patella Sleeves provide medical grade orthopedic support. Our patent pending Compression Zone Technology® provides pain relief and prevention for those suffering from Jumper's Knee (patellar tendinitis).
3 ZONES OF GRADUATED COMPRESSION
The PS3 has three zones of compression and a comfortable shaped fit. It provides proven, effective pain relief. The PS3 patellar tendon compression sleeves are comfortable enough to wear any time. You can even wear them under your regular pants and shorts. PS3 sports compression patella sleeves are a safe alternative to knee braces and splints. The PS3 is more comfortable than patella straps when treating and preventing knee pain.
FASTER MUSCLE RECOVERY
The PS3 sports patellar tendon sleeve provides medical grade support to the patellar tendon. The graduated compression of the PS3 also promotes excellent circulation. This reduces swelling and promotes faster muscle recovery. Our patent pending shaped to fit design makes the PS3 safer to wear than heavier supports and straps.
It's perfect for runners and other athletes. The PS3 is available in stylish black. The PS3 Sports Compression Patella Sleeve is the perfect fit for your active, pain-free lifestyle.