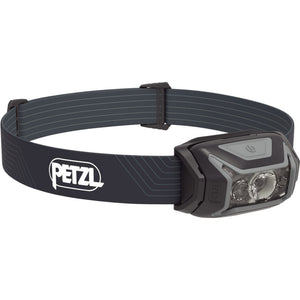 Don't let sunlight dictate when you work out—throw on the Petzl Actik 450 Lumens Headlamp and run even when the sun goes down.
Whether you are pounding the pavement or traversing the trails, this headlamp provides a powerful and comfortable light that casts 450 lumens. There is a wide, uniform beam so you can see the ground ahead of you. The mixed beam (flood and focused) allows you to see both in the distance and up close. There are three white light levels: max burn time, standard and max power, as well as a continuous red light that preserves night vision without blinding those around you.
This headlamp is easy to use—there is a single button for quick and easy selection of brightness or color, a lock function to prevent it from turning on in your pack, a battery charge indicator so you know how much juice you have left, and a plate that allows you to modify the direction of the headlamp for your preference (particularly helpful if you run in a hat). Plus, It comes with a storage pouch that also helps transform the light into a lantern if you are having hot cocoa with friends after the run.
Whether you are hitting the roads before the sun comes up or walking the dog at night after work, make sure you can see what's in front of you with the Petzel Actik 450 Lumens Headlamp.