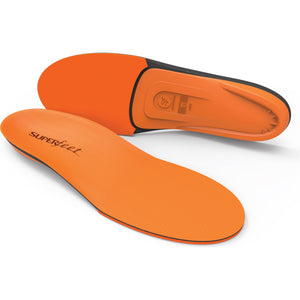 Superfeet ORANGE insoles can take a pounding so your feet don't have to.
To add more spring and softness underneath the balls of your feet, Superfeet used high-impact foam in the forefoot. That extra cushion plus Superfeet's unmistakable shape and support make this insole great for high-impact activities and long hours on your feet.
To keep you steady and comfortable on your feet, a deep heel cup and firm, medium-high arch shape gives your feet natural support by cradling your heels and hugging your arches to enhance the way your feet are intended to move.
If you're unsure between Superfeet ORANGE vs GREEN vs BLUE vs COPPER, check out our guide on how to choose the best Superfeet Insole.
| | |
| --- | --- |
| Superfeet Insole Sizes | Shoe Size |
| J | Youth 11.5 - 13 |
| A | Youth 13.5 - 2 |
| B | Youth 2.5 - 4 | Women 4.5 - 6 |
| C | Women 6.5 - 8 | Men 5.5 - 7 |
| D | Women 8.5 - 10 | Men 7.5 - 9 |
| E | Women 10.5 - 12 | Men 9.5-11 |
| F | Men 11.5 - 13 |
| G | Men 13.5 - 15 |
| H | Men 15.5 - 17 |