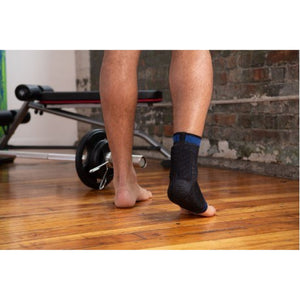 Decrease pain from Achilles tendinitis with the Pro-Tec Target Gel Compression Achilles Sleeve.

This Achilles sleeve helps to relieve pain in the back of the ankle with a combination of gel and compression. There are two gel strips that surround and support the Achilles tendon to stabilize and reduce strain. The Achilles sleeve is made from medical-grade compression to provide a high level of support while sitting or exercising. Plus, it's breathable for when you are working up a sweat.
Get relief from Achilles pain with the Pro-Tec Targeted Gel Compression Achilles Sleeve.
*While we at Fleet Feet aim to provide our customers with the best information possible, nothing beats the expertise of a medical professional. If you experience new or worsening pain, consult a doctor or physical therapist before taking any further action.