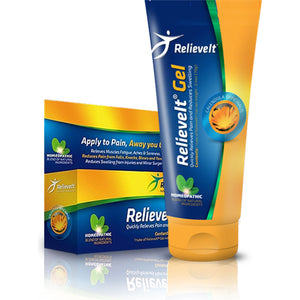 For fast-acting, all-natural pain relief, RelieveIt Gel has you covered.
With naturally sourced active ingredients like Arnica montana, calendula officinalis, Juniper berry, wintergreen, and eucalyptus, RelieveIt Gel provides powerful relief you can trust. Massage a thin layer of RelieveIt Gel to the affected area and experience fast-acting pain relief.
The world's first prevention for the onset of Muscle Fever, RelieveIt Gel offers a safe, effective way to reduce swelling after minor surgical procedures. Use to temporarily ease arthritis, plantar fasciitis or lower back pain prior to running or working out for best results and faster recovery time.
RelieveIt Gel will help to get you back to doing what you love, pain free.