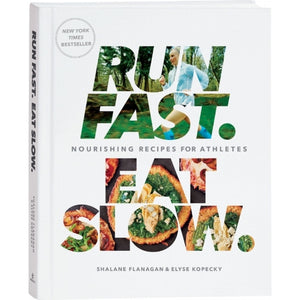 DELICIOUS, ENERGY-PACKED RECIPES FROM A WORLD-CLASS OLYMPIC MARATHONER AND A WHOLE-FOODS CHEF.
FROM WORLD-CLASS MARATHONER AND 4-TIME OLYMPIAN Shalane Flanagan and chef Elyse Kopecky comes a whole foods, flavor-forward cookbook that proves food can be indulgent and nourishing at the same time. Finally here's a cookbook for runners that shows fat is essential for flavor and performance and that counting calories, obsessing over protein, and restrictive dieting does more harm than good.
Packed with more than 100 recipes for every part of your day, attention-grabbing nutritional wisdom and inspiring stories from two fitness-crazed women that became fast friends 15 years ago, Run Fast Eat Slow has all the bases covered. Fitness-minded readers will find no shortage of delicious meals, satisfying snacks, thirst-quenching drinks, and wholesome treats. Fan favorites include Can't Beet Me Smoothie, Arugula Cashew Pesto, High-Altitude Bison Meatballs, Superhero Muffins, Kale Radicchio Salad with Farro, and Double Chocolate Teff Cookies.
Packaged as a beautiful, full-color hardcover cookbook, Run Fast Eat Slow, will stand out from other running cookbooks and will please Shalane's devoted fans who have been asking for food advice and recipes from her for years. Now Flanagan wants to share with the 42 million runners nationwide the recipes she eats to break records and live well.