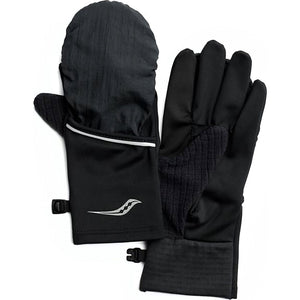 Not too hot and not too cold, the Saucony Fortify Convertible Glove is just right.
These running gloves come with a windproof and water-resistant mitt cover that tucks away into a backhand pocket when your hands start to get too hot during your run. So whether it's windy, raining, snowing or just chilly, you can keep your hands warm and protected from the elements.
The fit of the glove hugs your hands to quickly wick away sweat while the thumbs have soft, gridded fleece that you can use as a nose guard if you start to get the sniffles in blustery conditions.
A perfect two-in-one combo, the Saucony Fortify Convertible Glove is your defense against the cold whether you're walking the dog in the rain or braving winter training runs.