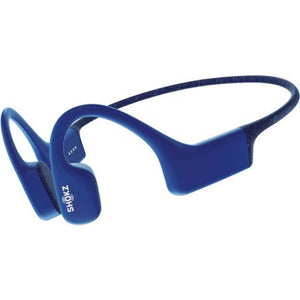 The Shokz OpenSwim Headphones (formerly Aftershokz Xtrainerz) will change how you experience swimming.
Enjoy earbud-free listening while you swim, run or bike—these open-ear headphones use bone conduction technology to DJ your training in or out of the water.
OpenSwim Headphones are completely waterproof and submersible, so you can let your mind float free as you drift along to your favorite melodies or power through laps in rhythm with your workout playlist.
Engineered to beat the elements, these wireless headphones have eight hours of battery life and an IP68 waterproof rating to withstand being submerged in water up to two meters deep for up to two hours.
Designed to help athletes train harder away from dry land, OpenSwim models do not have Bluetooth. Instead, these swimming headphones have 4G (up to 1,200) of MP3 storage you can take anywhere, so you can leave your phone behind.
With nothing inside or over your ears to block sound, you can hear your music and your surroundings when you're running, biking or working out. When you hit the pool, you can even wear your earplugs while listening to your favorite audio. Plus, the headphones have a secure fit that fits comfortably under a swim cap.