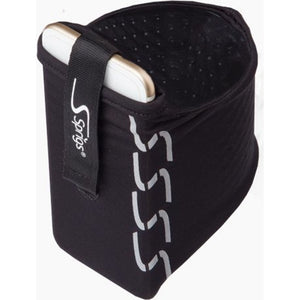 Run in true comfort with the Banjees Armband from Sprigs, made with custom performance fabric. This unique patent-pending design needs no adjusting, it stretches to fit you. Slip any size phone into the armband's form-fitting pouch, and close the VELCRO fastener over it. Then simply slide the armband onto your arm where it will sit securely and comfortably.
Fits all phones, including the iPhone 6/7/8 Plus and all Samsung Galaxy versions!
Phone size, case size, and personal preference effect the fit. Sizes are based off the circumference of your arm:
SMALL: 7" - 9.5"
MEDIUM: 9.5" - 12.5"
LARGE: 13" - 16"