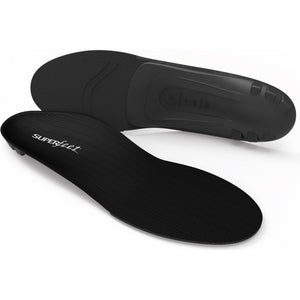 Superfeet All-Purpose Support Low Arch (Black) insoles have an easygoing arch shape and low profile that fits great in tight-fitting footwear.

Some of Superfeet's most versatile insoles, All-Purpose Support Low Arch use a low-profile shape, so you can improve the comfort, fit and performance in a wide variety of running shoes and footwear. Slip them into uncomfortable dress shoes during a long day at the office or put them in your lightweight running shoes for extra support and performance during your workout.
Great for all-purpose use and those with flat feet or low arches, a subtle yet firm arch shape gently hugs your heel and foot to relieve pain and encourage natural foot alignment and movement.