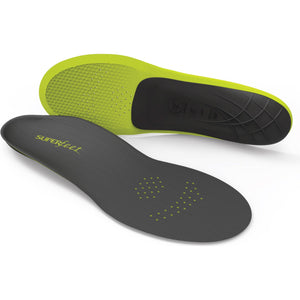 Don't let your achy feet keep you from putting in the miles. Superfeet Run Support Low Arch (Carbon) insoles use the strength of a carbon fiber stabilizer cap paired with ultralight foam to support and cushion your feet during high-impact activities. The low arch shape cradles and hugs your heels and arches to keep your feet comfortable with every stride.
They are thin enough to slip into your tighter-fitting footwear like running shoes, bike shoes, cleats and track spikes, even some without removable liners.
Once you're wearing them, you'll love how they keep your feet from sliding around and stabilize your heel during running and other sports.