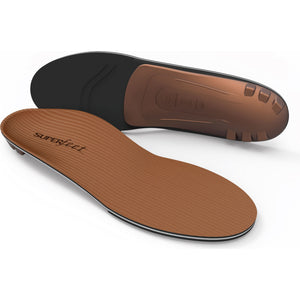 Tried and true, Superfeet COPPER insoles give you an incredible fit that feels like they were made custom for your feet. Soft and cushioned memory foam imprints the shape of your foot while you stand, walk or run — no casting or baking required.
Simply add these insoles to your running shoes, work boots or casual footwear for subtle, yet firm support that cradles your heels and hugs the arches to relieve pain and encourage natural foot alignment and movement.
If you have sensitive or flat feet, Superfeet COPPER Insoles will give you the most flexible and accommodating shape and support. Still unsure between Superfeet COPPER vs BLACK vs GREEN vs ORANGE? Check out our guide on how to choose the best Superfeet Insole.