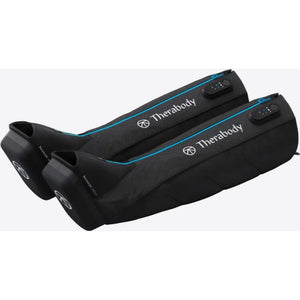 Recharge your legs with the fully wireless Theragun RecoveryAir JetBoots.
The Theragun RecoveryAir JetBoots allow you to enjoy the benefits of their pneumatic compression anywhere thanks to an integrated pump that makes them easier than ever to use—no plugs or cords. You can easily adjust your treatment settings with the integrated, one-touch control panel.
The benefits of these compression boots include: boosting circulation and lymphatic drainage, reducing delayed onset muscle soreness, decreasing swelling and stiffness, and relieving muscle fatigue.
They feature TruGrade Technology™, which applies precise pressure to create a safer true negative gradient from the feet to the heart and back again. This is important because it maximizes circulation, which helps recovery. The JetBoots have a variety of settings that you can use, including:
4 time intervals (20 min, 40 min, 60 min and continuous)
4 pressure settings (25, 50, 75, 100 mmHg)
These boots have Theragun's FastFlush Technology™, which allows for full inflation and deflation cycles in 60 seconds, giving you more cycles per session. Plus, they are even easy to clean. There are no pockets or seams to trap moisture and bacteria, so you can just wipe a damp cloth over the seamless interior.
Recover anytime, anywhere with the Theragun RecoveryAir JetBoots.