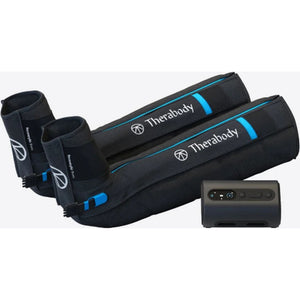 Boost your recovery with the Theragun RecoveryAir Prime compression system.
This easy-to-use pneumatic compression system makes it accessible for anyone to experience a pressure massage. Simply set your time and pressure, then sit back and relax while your legs recharge. The benefits of these compression boots include: boosting circulation and lymphatic drainage, reducing delayed onset muscle soreness, decreasing swelling and stiffness, and relieving muscle fatigue.
They feature TruGrade Technology™, which applies precise pressure to create a safer true negative gradient from the feet to the heart and back again. This is important because it maximizes circulation, which helps recovery. There are two preset routines (warm up and recovery) that can be used by connecting via Bluetooth to the Therabody App. There are also other ways that it can be personalized to you including:
4 time intervals (20 min, 40 min, 60 min and continuous)
Adjustable pressure range (20-100 mmHg in increments of 10)
Adjustable pressure hold and release time (1-60 seconds)
These boots have Theragun's FastFlush Technology™ which allows for full inflation and deflation cycles in 60 seconds, giving you more cycles per session. Plus, they are even easy to clean. There are no pockets or seams to trap moisture and bacteria, so you can just wipe a damp cloth over the seamless interior.
The Theragun RecoveryAir Prime gives you advanced compression that is simplified for anyone.