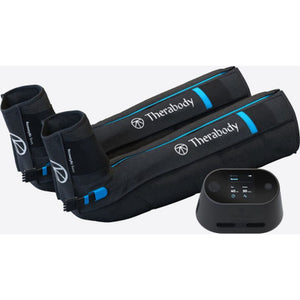 You push your body to the limits. Give it the recovery it craves with the Theragun RecoveryAir Pro.

These compression boots are great for recovering quicker after working out. The RecoveryAir Pro compression boots are some of the best you can find. They feature TruGrade Technology™, which applies precise pressure to create a safer true negative gradient from the feet to the heart and back again. This is important because it maximizes circulation, which helps recovery.
These boots have Theragun's FastFlush Technology™ which allows for full inflation and deflation cycles in 60 seconds, giving you more cycles per session. There are four preset programs (warm up, recovery, isolation and interval) or you can have complete control with freestyle PRO mode. There are also four inflation cycles (sequential, wave, isolation and flow), so you can find the right combination for you.
Everything is customizable with the Theragun RecoveryAir Pro, including:
Adjustable time settings (10 - 90 min.)
Adjustable pressure range (20 mmHg - 100 mmHg)
Adjustable pressure hold and release time (1 - 60 seconds)
Zone Control of pressure in individual chambers
You can also use the Therabody App to connect to the Theragun RecoveryAir Pro via Bluetooth so you can save and share unlimited personalized routines.
Recover faster with Theragun RecoveryAir Pro.