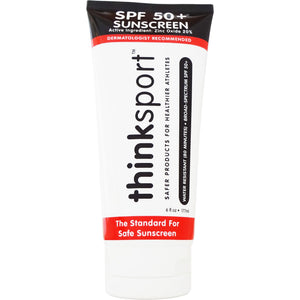 Thinksport sunscreen is a mineral-based sunscreen designed specifically for athletes, outdoors enthusiasts and anyone looking for sun protection without harmful chemicals.
This dermatologist-tested formula provides SPF50 broad-spectrum UVA and UVB protection, and it's free from several common sunscreen chemicals, including PABA, parabens, phthalates, BPA, oxybenzone, avobenzone and petroleum.
Thinksport absorbs quickly and easily, and it won't leave you feeling greasy. Plus, it's non-aerosol formula covers more effectively than spray sunscreens, and you won't inhale particulates.
Thinksport suncreen is also:
Water-resistant for 80 minutes
No animal by-products or testing
Non-nano formulation; average particle size >100micron
Organic

BPA free
Non-Aerosol and Biodegradable
Reef safe
Non-toxic
Dermatologist tested
With a mineral-based formula that's effective for all skin types, Thinksport sunscreen is a safe choice for any activity.