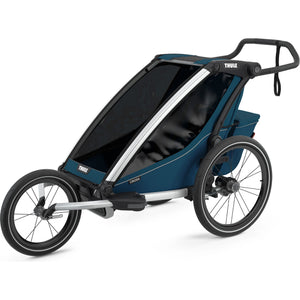 A must-have for active parents, the Thule Chariot Cross 1 is a life changer.
Easy to assemble, maneuver and fold, the Chariot Cross 1 is the best and most versatile all-around trailer, jogger and stroller for bringing your little one with you on all of your outdoor adventures.
Whether you bike, jog, stroll or ski (jogging and ski kits sold separately), this multisport stroller makes activities with your kid easy and stress-free.
It folds compactly to fit in the trunk of your car, and the Thule VersaWing System lets you easily set up the stroller or quickly convert it between activities. Plus, while you're using one kit, the Thule Click n' Store feature gives you convenient onboard storage for the other kits.
Haul your gear and your kiddo to the farmers market or events in town—the Chariot Cross 1's extra large cargo space can store everything you need for a successful family outing. You can also pack the extra cargo space away for more room to stride during your daily jog or walk.
There will be no fussing from your kid during your trips and adventures either. This stroller is like riding in a luxury SUV. Comfortable, padded seats can conveniently recline with one hand and an adjustable leaf spring suspension gives your child a smooth and enjoyable ride.
The rain cover and sunshade come in clutch so the elements won't keep you from being outside, while the adjustable vents help with airflow and temperature control. Your kid will always be able to take in the sights thanks to the removable clips that increase breathability and prevent the rain cover from fogging up. The seat is removable, too, for easy cleaning when spills inevitably happen.
For your own comfort and peace of mind, the Chariot Cross 1 comes with an adjustable handlebar that's ergonomically designed for a smooth and easy push. Plus, there's a rear light for added visibility and safety.
If your family and you love being outdoors, the Thule Chariot Cross 1 will give you the freedom and flexibility to adventure with your kid year-round.