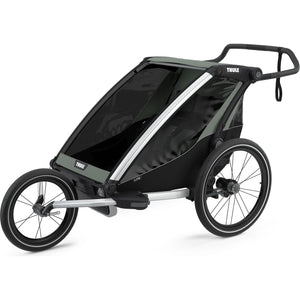 The Thule Chariot Lite 2 lets you bring your kids with you on all of your favorite outdoor adventures. It is a multisport trailer that turns into a convenient and sporty stroller for everyday life.
This stroller works perfectly when you bike, jog, stroll or ski (jogging and ski kits sold separately). The Thule VersaWing system enables quick and easy conversions between activities and the Thule Click n' Store gives you convenient on-board storage of the strolling, jogging and cycling kits.
The Chariot Lite 2 is comfortable for both you and your child—its suspension system makes the ride smooth, the vents optimize airflow and climate control, a rain cover and sunshield keep your child dry and protected from the sun, and the adjustable handlebar allows you to find the perfect position.
Plus, there is a rear light for added visibility.
The Thule Chariot Lite 2 lets you share your passion of biking, running, strolling or skiing with your little ones.