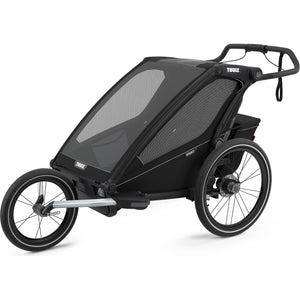 The Thule Chariot Sport 2 lets you share your passion for biking, running, walking or skiing with your little ones.

The pinnacle of comfort, performance and style, this stroller works perfectly when you bike, jog, stroll or ski (jogging and ski kits sold separately). The Thule VersaWing system enables quick and easy conversions between activities and the Thule Click n' Store gives you convenient on-board storage of the strolling, jogging and cycling kits.
The Chariot Sport 2 is the ultimate in comfort for your kids—it has independently reclining seats for naptime, adjustable suspension, fully padded seats, a Climate Control Cockpit with removable windows and a multi-position sunshade.
This jogging stroller also has all of the bells and whistles to make your outdoor adventures as comfortable and easy as possible, including the one-hand activated disc brakes for increased control on steep terrain, an adjustable ergonomic handlebar and extra large cargo space to hold a picnic lunch that can also be stored away to give you more room for your kick stride while running.
The ultimate multisport double stroller for athletes, the Thule Chariot Sport 2 lets you bring your children with you on all your athletic endeavors.