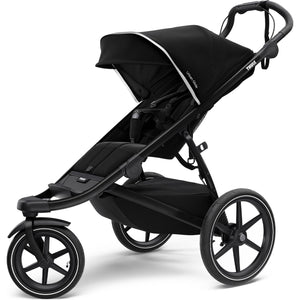 Whether you are a busy mom looking to get in shape or want to take your kid on adventures, the Thule Urban Glide 2 is the perfect jogging stroller.
This all-terrain jogging stroller is perfect for a neighborhood run or strolling along your favorite path. The sleek, lightweight design has large 16" rear wheels, suspension for comfort and control, and a swivel front wheel for maneuvering around town that quickly locks in place when you're running or going over rougher terrain.
The design is sleek enough to go shopping downtown but rugged enough to handle snowy sidewalks. Plus, there is an integrated twist handbrake that offers improved security and braking control on hilly or icy terrain.
Your child will ride in comfort—there is a multi-positional canopy with side ventilation to make sure they stay cool and shaded, reclining seats for naptime, and a secure and comfortable seat with a five-point harness.
This Thule stroller makes your runs and outings as easy as possible—there is an ergonomic, adjustable handlebar, a peekaboo window with magnetic closures that lets you check on your sleeping child, and reflective details on the rims of the wheels and canopy to improve safety and visibility. Plus, there is room to carry everything you need to entertain your children thanks to a large cargo basket with a zip-top cover, a rear mesh pocket and two mesh compartments for snacks or toys.
Easy to stow away or transport in your car, the Thule Urban Glide 2 can be folded with one hand to make it flat and compact.
This stroller grows with your child, you can use it from birth with the car seat adapter or Thule Bassinet (both sold separately).
Sleek and lightweight, the Thule Urban Glide 2 is a jogging stroller made for active parents.
Have more than one kid? Look for the Thule Urban Glide 2 Double Stroller.