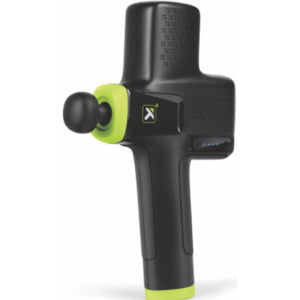 The TriggerPoint Impact percussion massage gun is a powerful way to warm up before a workout and recover after.

TriggerPoint designed the Impact device to deliver a targeted massage for all your muscles. Percussion massage provides multiple benefits for your body, including:
Increasing blood flow to muscles
Improved muscle tissue hydration
Better performance before and after a workout
The TriggerPoint Impact is a versatile massage device thanks to its easy to hold form and variable speeds. Engineers equipped the Impact to provide four different percussion speeds at 300-rpm intervals. The Impact starts at 2,100 rpm and tops out at 3,300 rpm.
Weighing just 2.4 lbs, the TriggerPoint Impact is easy to hold and maneuver around your body for extended massage sessions. The angled handle helps balance the device's weight and give you better grip, comfort and control.
TriggerPoint designers packed the Impact with a rechargeable battery that holds a charge for more than two hours of continuous use—plenty of time to warm up or cool down.
With a quiet, brushless motor and universal massage head, the TriggerPoint Impact is a premium percussion massage device that gives you powerful, targeted work whenever you need it.
| | |
| --- | --- |
| Tech specs | TriggerPoint Impact |
| Price | $200 |
| Weight | 2.4 lbs |
| Dimensions | 7.5" x 2" x 10.3" |
| Battery life | 2+ hours |
| Speed settings | 4 |
| RPM | 2,100 - 3,300 rpm |