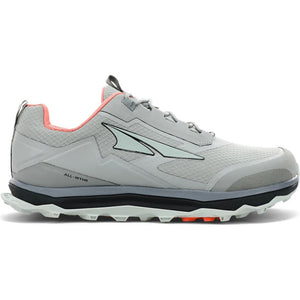 Best For:
Surface: Mild, Even and Groomed Trails
Category: Trail Neutral – This shoe allows your foot to react to the surface beneath it while providing enough midsole to protect it from the surface debris. Intended for runners who have a higher, more stable arch that does not pronate excessively (roll inwards), Neutral Cushioned Trail shoes offer very little or no pronation support while still maintaining the durability needed to handle trails.
Benefits Include:
The Footshape comfort gives your toes more room to spread out naturally and is designed to address biological differences in feet.
Has Altra Ego Midsole foam for added protection and responsiveness in a lightweight package.
Water-resistant eVent bootie construction, so you can run through rain without slowing your pace.
Specifications:
Weight: 13.2oz
Cushion Level: Medium
Pronation Support Level: Neutral
Style: AL0A4VR9-040