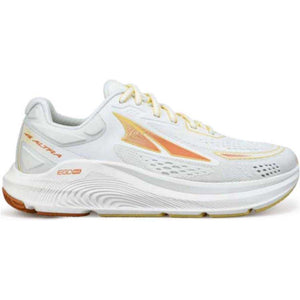 Every part of your foot is supported in the ultra-comfortable and max-cushioned Altra Paradigm 6.
When you first slip on the Paradigm 6, you'll notice your toes can stay straight and have extra room to wiggle due to Altra's FOOTSHAPE™ toe box design. As you lace up, a mesh material wraps around the medial (inner) side of your foot to hug your arch and prevent excessive pronation. This is thanks to Altra's INNOVARCH™ and GUIDERAIL™ technologies that work to support your arch and heel to give the foot natural stability and guidance.
Once you're up and on your feet for your walk, run or long day at work, the Paradigm 6 uses a balanced bed of Altra EGO Max Midsole™ cushioning for a soft and bouncy ride. Plus, the Paradigm's zero-drop heel-to-toe difference takes pressure off the ball of your foot and encourages a softer landing while walking and running.
Reach for the Altra Paradigm 6 when you are looking for a plush and supportive experience out on the road or during long days on your feet.