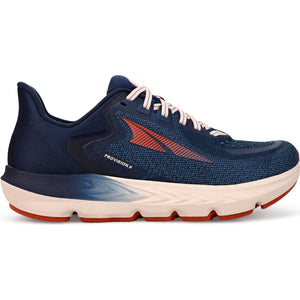 The Altra Provision 6 will give you support when you need it for a lightweight, cushioned ride.
Altra took its lightweight stability shoe and made it more cushioned, durable and bouncier than the previous version. They added their EGO midsole to this model of the Provision, which makes it lighter, too. The EGO cushioning is soft but allows for an explosive push-off.
The Altra Provision 6 has a GuideRail™ design that gives you medial support when you need it, making this a great stability shoe for runners who overpronate. Designers updated the InnovArch™, which puts a webbing underfoot and provides additional arch support to give your foot better placement.
They changed the InnerFlex™ grid-like grooves in the midsole to increase flexibility and allow your foot to move more naturally. The Provision 6 also has Altra's standard fit: the roomy FootShape toe box that allows your toes to splay naturally, Balanced Cushioning that has the same amount of cushioning in the forefoot and heel to run more naturally, and gender-specific tweaks to address the biological differences in men and women's feet.
The Provision 6 upper is a bit more flexible with more depth and a higher instep than the previous version. Check out more about this shoe in our Altra Provision 6 review.