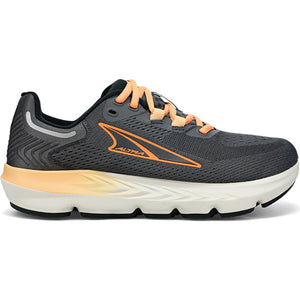 Get the perfect balance of cushion and support to reach your running goals with the Altra Provision 7.
The Altra EGO™ midsole offers cushion and bounce every step of the way. It contains Altra's InnerFlex™ midsole grooves, which are designed to promote flexibility and movement. The Provision 7 also has Altra's standard fit—the roomy FootShape toe box that allows your toes to splay naturally. Altra also used its Balanced Cushioning that has the same amount of cushioning in the forefoot and heel to run more naturally, and gender-specific tweaks to address the biological differences in men's and women's feet.
Feel supported and stable as you run, the Provision 7 has Altra's GuideRail™ technology that provides medial and lateral support, but it is only there when you need it. This is perfect for people who have flexible ankles or overpronate and want a little extra stability.
An updated molded heel collar will keep your heels locked in, while the engineered vamp mesh is breathable and provides a great fit. Plus, the FootPod™ outsole technology is durable and encourages natural movement underfoot.
Whether you are new to running or run everyday, the Altra Provision 7 will give you a spring and support in every step.